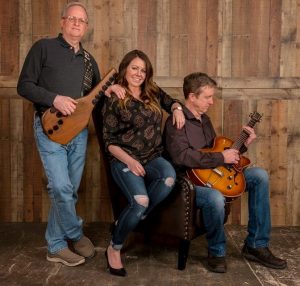 SHOW TIMES ARE AT 1PM AND 4PM SUNDAY, APRIL 26TH
5 Man Trio has been playing since 2002. Former members of the band Mother Funk, Scott and Rich have been playing music together since 1992.
Having just 3 members, the band has an amazingly full sound.
Brittany joined the band in 2013.Brittany adds a nice texture to the songs and provides strong lead vocals.
Scott fills in a lot of musical material with his guitar and effects.
Rich holds down the rhythm section with his Drumitar and Bass Pedals.
Members:
Brittany Chambers – Lead singer, backing vocals.
Brittany covers popular songs amazingly well using her own style. She is mother of two and is the daughter of Rich.
Scott Williams – Guitars.
Early on, Scott played the drums in several bands.  In his later years, he decided to  learn the guitar.  And learn he did.  Scott has a wide interest in many musical styles.   His guitar playing emulates those styles incredibly well,  which allows 5 Man Trio to cover many different  songs.   "Is there anything he can't play?".
Rich Irace – Rhythm section, backing vocals, lead vocals.
Musical interests are with piano, keyboards and drums. After seeing Bela Fleck and the Flecktones in concert, he was inspired to build a "Drumitar".  
The Drumitar allows Rich to play drums with his hands and bass pedals with his feet. 
Contact us thru our Facebook page or call/email Brittany for bookings.
Welch Insurance LLC
Crystal Springs Inn and Suites